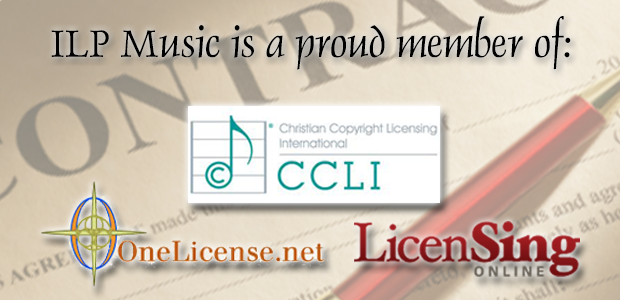 ---
ILP offers you a simple, accessible copyright policy in an effort to make the legal use of our
music as convenient as possible. This policy includes the entire ILP repertoire and is readily
available to your parish --
including future ILP publications
.
ILP has joined OneLicense.Net, LicenSing, and CCLI to make it easy for your parish to
access the ILP catalog of more than 1500 titles.
Please help us to make sure that our composers and authors are compensated
for your use of these works by reporting every use to ALL licensing groups
to which you belong. This will allow our composers to continue to share their gift
of music with you. Your diligence is greatly appreciated.
---
A N N U A L &nbsp R E P R I N T &nbsp L I C E N S E
This license, renewable annually, is restricted to copying/reprinting text and melody lines only
for congregational usage, e.g., song sheets, bulletin inserts, programs, PowerPoint and
transparencies for overhead projection. The cost is based upon the number of families or
households in your parish:
0 - 99 families: $100.00
100 - 500 families: $150.00
600 - 1000 families: $200.00
1001 or more families: $250.00
---
P R I N T I N G: &nbsp P E R M A N E N T &nbsp H Y M N A L S / S O N G &nbsp B O O K S
This license is for reprinting in a permanent hymnal, booklet, song sheet, or song book or
booklet, and is intended for private use only (not for resale). The cost is assessed per
song, per copy as follows:
Note: This does not include licensing of hymnals or other books that will be sold.
1 - 5 songs: $.05 per song, per copy (Minimum: $40)
6 or more songs: $.025 per song, per copy (Minimum: $40)
---
O N E - T I M E &nbsp U S A G E
For parishes or other institutions without a current reprint license. The cost is assessed per occasion,
and covers an unlimited number of copies.
One occasion / up to 1000 copies: $25.00
One occasion / up to 5000 copies: $50.00
Call 888-898-SONG for more than 5000 copies
---
R E C O R D I N G / M E C H A N I C A L &nbsp L I C E N S E
This is a license to record ILP music. Please
click here
to learn more or to request a mechanical license.
NEED PRICING AND TERMS
P U R C H A S E &nbsp A &nbsp L I C E N S E:
Δ REPRINT &nbsp &nbsp Δ ONE-TIME USAGE &nbsp&nbsp Δ RECORDING/MECHANICAL